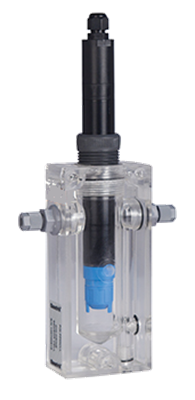 Chlorine ppm Sensors
Product Details
Tech. Specifications
Installation
Maintenance
PPM Sensor for CHLORINE level measurement
CHEMTROL® is introducing a new line of PPM sensors for direct measurement of CHLORINE measurement in water in parts per million (ppm) or milligrams per litre (mg/l).
Unlike other chlorine sensors on the market, our solid state sensor features superior precision and control of free chlorine levels, with industry-leading reliability and low maintenance requirements.
These sensors are very precise and so reliable that they are covered by a 2-year warranty. They are easy to install and practically maintenance free.
The PPM sensor can be used alone or in combination with an ORP sensor to give the operator complete control of water quality.
New membrane-less sensors are also available for Chlorine Salt Generators.
Standard Features

FREE CHLORINE measurement (same as DPD #1) in ppm or mg/l including:
– free chlorine (HOCl and OCL-) and
– chlorinated isocyanurates if present,
pH RANGE of 5.5 to 9.5,
TEMPERATURE RANGE of 5 to 50C (40 to 120 F)
CYANURIC ACID compatible,
PRESSURE RANGE up to 3 bar (45 psi),
PVC BODY with 1-in MPT fitting,
REPLACEABLE MEMBRANE,
SENSOR CELL with specially designed probe housing,
EASY CALIBRATION on start-up.
---
PPMFC002 – 0-002PPM Membrane Free Chlorine Sensor
PPMTC002 – 0-002PPM Membrane Total Chlorine Sensor
PPMAC002 – 0-002PPM Membrane Active Chlorine Sensor (Sea-water)
PPMAC002HP – 0-002PPM Membrane Active Chlorine Sensor (Hot-water)**
PPMFC010 – 0-010PPM Membrane Free Chlorine Sensor
PPMTC010 – 0-010PPM Membrane Total Chlorine Sensor
PPMAC010 – 0-010PPM Membrane Active Chlorine Sensor
PPMBM010 – 0-010PPM Membrane Bromine Sensor
PPMFC010S – 0-010PPM Membrane Free Salt Chlorine Sensor
PPMAC010HP – 0-010PPM Membrane Active Chlorine Sensor (Hot-water)**
PPMAC100 – 0.5-100PPM Membrane Active Chlorine Sensor
PPMAC200 – 0.5-200PPM Membrane Active Chlorine Sensor
PPMHP200 – 0.5-200PPM Membrane Hydrogen Peroxide Sensor
PPMBM400 – 10-400PPM Membrane Bromine DBDMH Sensor
** These amperometric sensors are used to measure the hypochlorous acid present in hot water systems and are specially adapted for measurements under pressure (up to 8 bars). These probes are generally used for monitoring chlorination against legionella.
Sensor Cell Installation 
The sensor is designed to be installed in a specially designated flow cell for controlled flow of water. The recommended flow rate is about 56 L/hr (15 gal/hr).
The chlorine sensor is shipped in a molded foam package containing: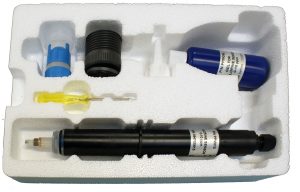 – One (1) chlorine sensor with serial number (needed for warranty),
– One (1) compression fitting with O-ring and compression disk,
– One (1) electrolyte cap with membrane,
– One (1) electrolyte bottle and screw-on filling tip,
– One (1) screwdriver (not needed if pre-wired).
In order to prevent serious damage to the sensor, be careful not to touch the membrane or the electrodes.
To facilitate shipment and storage of the sensor, it is not fitted with the electrolyte cap until ready for installation. The sensor cap must be filled with the electrolyte solution before usage and emptied during storage.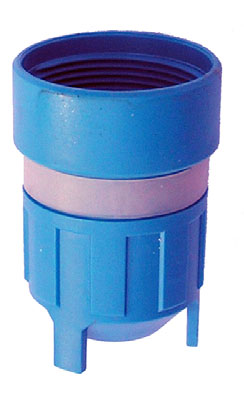 Fill the sensor cap with the electrolyte taking care to prevent air bubbles. Fill the cap to the bottom of the threaded section. Thread the sensor into the cap as far as it will go. Excess air and electrolyte may escape through the hole below the rubber seal. Wipe any excess electrolyte with a soft tissue. Contact CHEMTROL® if you need additional electrolyte.
Slide the O-ring and the compression disk over the sensor tip up to the compression ring. Finally, insert the sensor with the compression fitting in the flow cell and make it finger tight.
Sensor Calibration 
To calibrate the sensor, use a DPD #1 test kit for free chlorine. It is recommended to do the first calibration 2 hours after startup and to repeat it after 24 h. After that, check the calibration as required and generally every 4 weeks.
---
Maintenance and Warranty
There is no special maintenance requirements except to make sure that the membrane remains clean and to remove the sensor to prevent freezing in winter.
The sensor is covered with a standard manufacturer's warranty of 2 years. Under proper water conditions, the membrane should last 1-2 years. Do not reuse the membrane if removed. Replace with new membrane.
---
Important information
Can we reuse a membrane?
The answer is no. Once used, it must be thrown away.

Are the electrodes really fragile?
Yes, you must not rub them. Just dub them gently.
Can the electrolyte bottle be reused once opened?
Yes, but after each use, the bottle must be well closed. It can be used before the expiry date. For information, a bottle can fill up to 3 membranes.
Should the membrane be fully tightened when mounted on the probe?
Yes, it is very important to screw it until you cannot tighten it anymore.
---